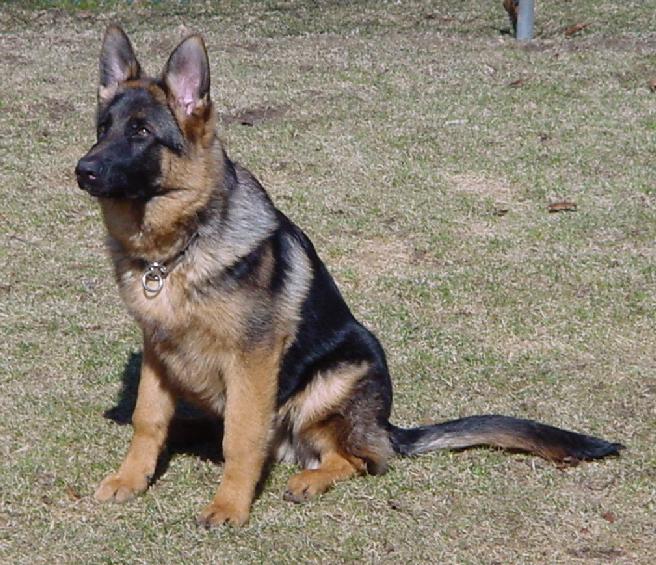 Pictured above Iron von der Stadtrand (5 months)
The German Shepherd Dog is a very respected, admired, and utilized working dog throughout the world. They are easy to recognize and one of the most popular of all breeds. German Shepherds are acclaimed for their versatility, well known for intelligence, and beloved for their devotion and loyalty to master and family.
The German Shepherd Dog has been a recognized breed for only about 100 years. The breed began its heritage from a small group of breeders breeding sheep herding and working farm dogs in Germany. In the late 19th Century they began working together with a common interest in their dogs and started to produce dogs with the desired working attributes.
The initial group dissolved, and another dog club started in 1899. This group is called Der Verein Für Deutsche Schäferhunde and was founded by Max von Stephanitz who is known as the father of the breed.
The first German Shepherd came to the US in the early as 1900's, and popularity gained tremendously after World War I when returning soldiers told stories of the heroic German Shepherd dogs working with the Red Cross, at the front, for the police, and on guard duty. Shortly after two beloved silent film stars Rin Tin Tin and Strongheart warmed the hearts of the American people.
The German Shepherd is distinguished for his loyalty, courage, and ability to retain training for countless special services. Today German Shepherds are widely used by police officers and the military, as guide dogs for the blind, Service Dogs, drug and bomb detection dogs, and Search and Rescue dogs. However most puppies are purchased to serve a very important role as a devoted family friend and protector.
Clayton Warichak
Von der Stadtrand German Shepherds